Leon Owners Club were kindly invited by SEAT UK and SEAT ES to visit the international launch of the MK3 Leon ST on Friday 22nd November 2013 in Barcelona.
My journey started at lunch time on Thursday 21st when I was taken to Gatwick airport to meet up with the SEAT UK PR team, our flight departed on time and arrived as scheduled in Barcelona. SEAT ES were on hand to pick us up in a couple of SEAT Alhambra's and took us to our base for the two days. Hotel W, which is located in the port area of Barcelona.
This was my first trip to Spain despite being an avid Real Madrid fan so I wasn't really sure what to expect when we started driving through the port area. What I saw in front of me was quite impressive; Hotel W dominated the local skyline due to it being very tall but also very well lit up. Once inside it was just as impressive and was one of the nicest hotels I've ever been in. On route I noted how the Spanish roads were completely different than the UK ones, for a start they drive on the opposite side but there seemed to be a lot more traffic lights and pedestrian crossings in the most inappropriate places.
We had a very nice meal at a local restaurant called Salamanca. Most of the side dishes were seafood based which suited me but not some of the others, some light social drinks followed on back at Hotel W with journalists and SEAT UK staff followed with some well deserved sleep.
Below is the night time view from my room which I couldn't wait to see in the morning.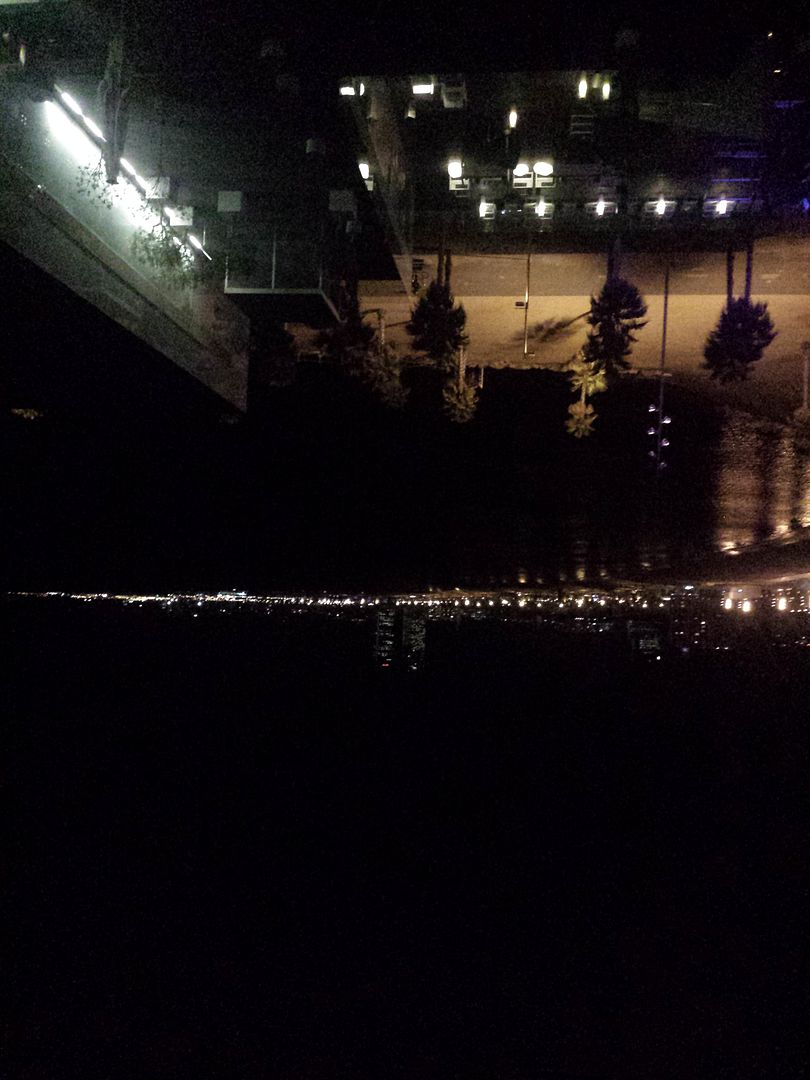 My 7am alarm went off far too quickly, pressed the switch by the bed which opened the electric curtains and was greeted by the view below, which I think you will all agree was better in views and weather than my usual outlook of Milton Keynes. Stuffed my face at breakfast with a selection of meats and cheeses and I was ready to tackle the driving.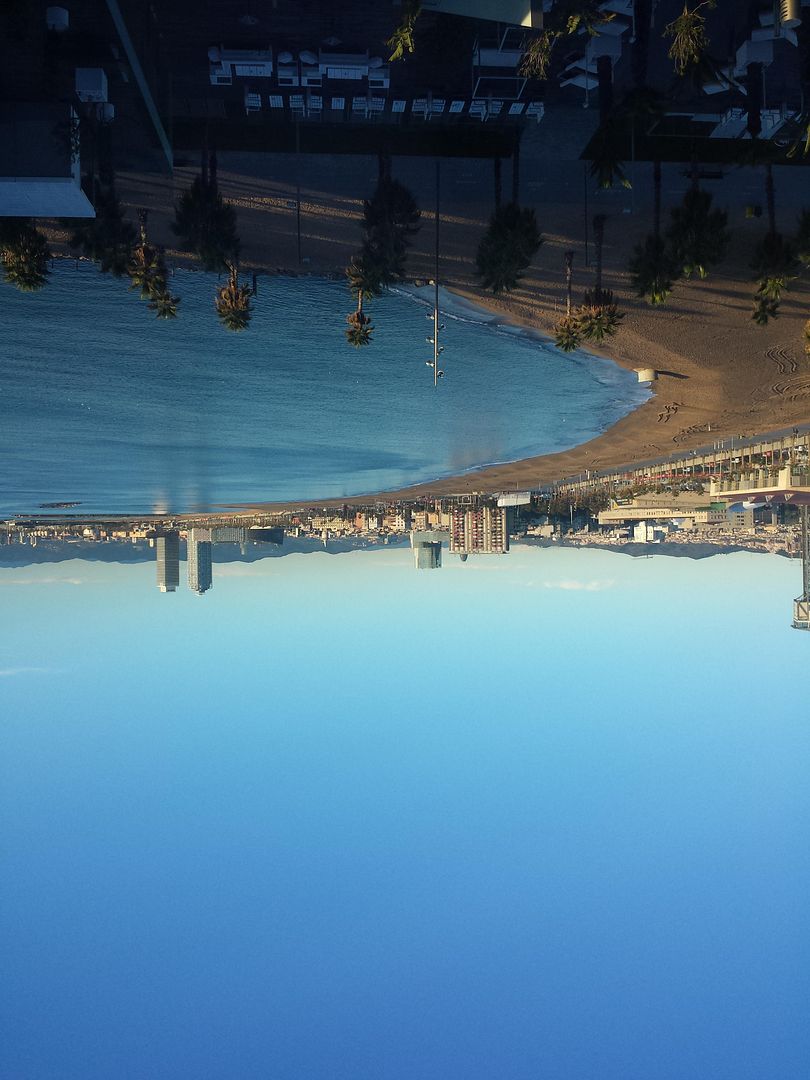 I was accompanied by another Leon Owners Club colleague, the first car we selected was a lovely Technic grey 1.8TSI 180PS with 7 speed DSG, so in we jumped and off we ventured, I simply drove for around 35 minutes through Barcelona city centre and then off towards the airport. The car drove brilliantly and the first thing I noticed was the fact the car didn't drive like an estate, in the past I have driven a few estates and well they felt like barges! but the Leon ST felt just as nice as the 5 door and the SC. The engine performed well and accelerated well and the car didn't feel like a big estate.
I think one of the major factors that make this car feel so good when driving it is the fact that the kerb weight of the ST is 1,233 kilograms which is nearly 200 kilograms less that the MK2 Leon and only 45 kilograms more than the MK3 5-door. Whilst driving my colleague recognised a song which had just started on the Spanish radio station which had a lot of bass in it so this allowed us to test out the SEAT Sound system which is an optional extra, we cranked it up to around three quarter volume and it stayed very clear and also offered amazing bass levels, this extra would be something I would recommend to everybody. After driving for about 35 minutes we turned off the main road and found a nice little stretch of beach unfortunately for us there was a small wall blocking our path or else the car would of found its way onto the sand but it allowed us to snap some pictures.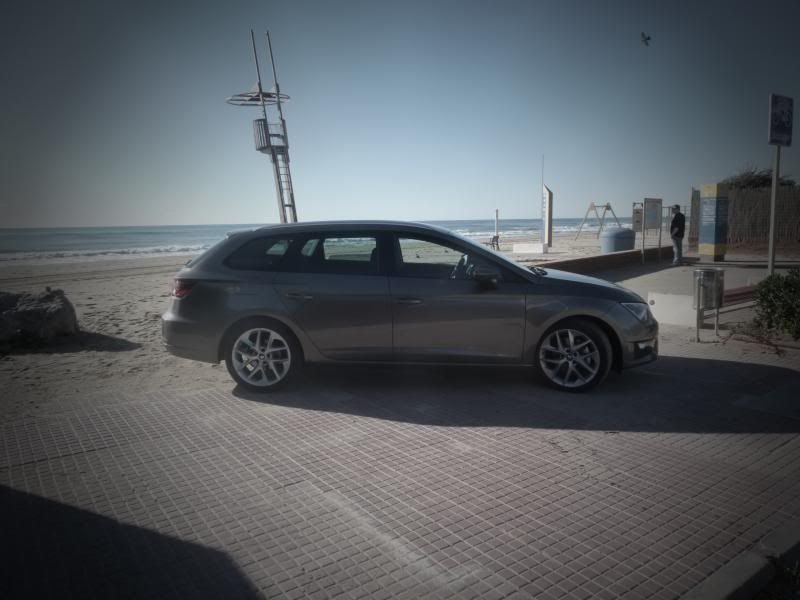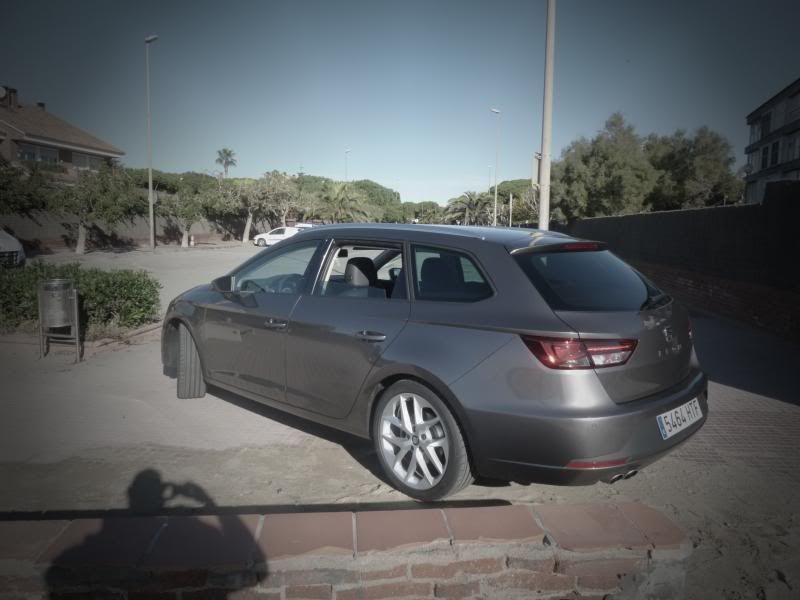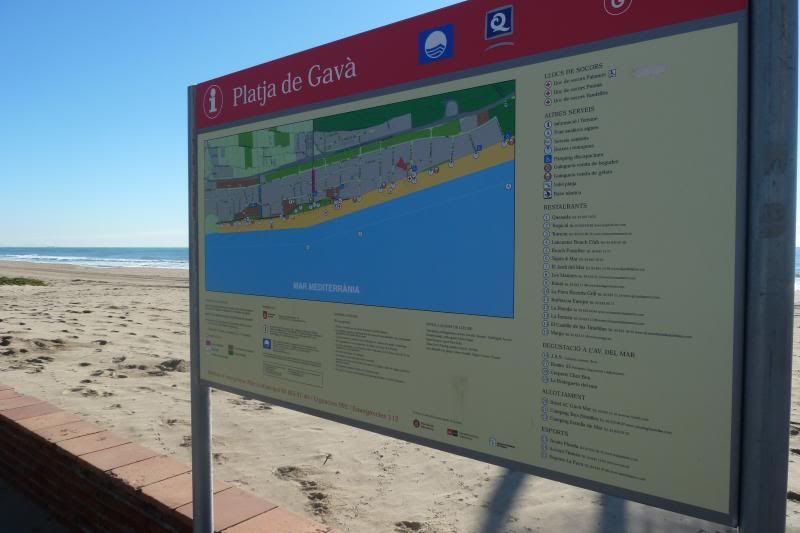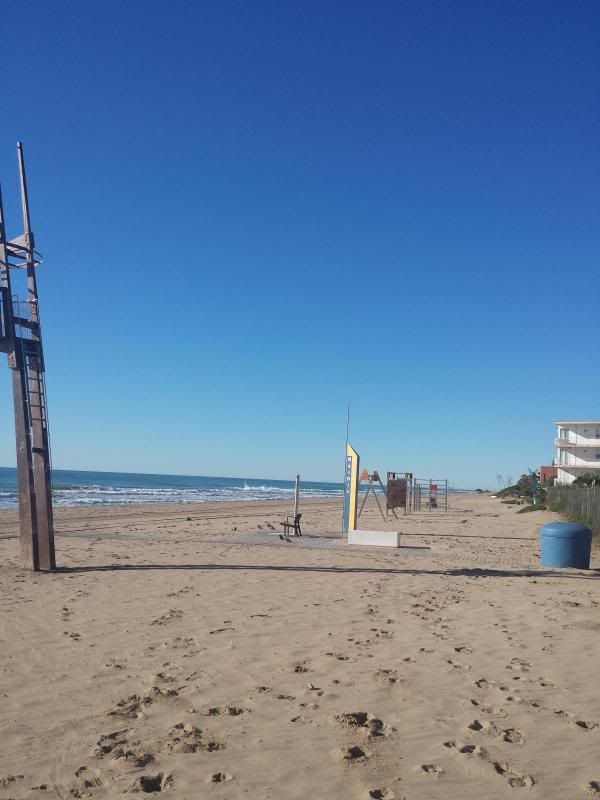 We took this opportunity to stretch our legs for a few minutes and then to spend some time exploring the car. The first thing I wanted to explore was the 587 litre boot which, I would say, is the main feature of this car. On the ST, SEAT has added two handles which you pull on either side of the boot which fold down the seats nice and quickly meaning you don't have to push them down like traditional cars. With the seats down it increases the capacity to 1470 litres, if with the seats down you still find yourself needing a little more room. The ST has a few more tricks up it's sleeve, the first is the boot floor can be lowered adding a little more depth, the parcel shelf can be removed and stored away nicely under the boot floor as well allowing more height space and then the final trick is that the passenger seat also folds down flat allowing that extra space for your long item such as a surfboard (if you didn't want it on the roof).  In total this would allow a maximum length of 2.67 metres. Another feature the ST has are tables on the back of the front seats  which allow you to store drinks or use a laptop. All of the other features are the same as the 5 door and SC so I don't feel I need to go into detail with these. One of the things we noticed with the ST is that the ride height looks to be slightly lower than the 5 door and SC we didn't have a 5 Door or SC to compare to but it looks to be lower slightly. The leg room in the back of the car also seems to be very good and better than some previous estates I have been in such as my parents Renault Laguna. This car had the full LED headlights and rear lights which give it amazing road presence.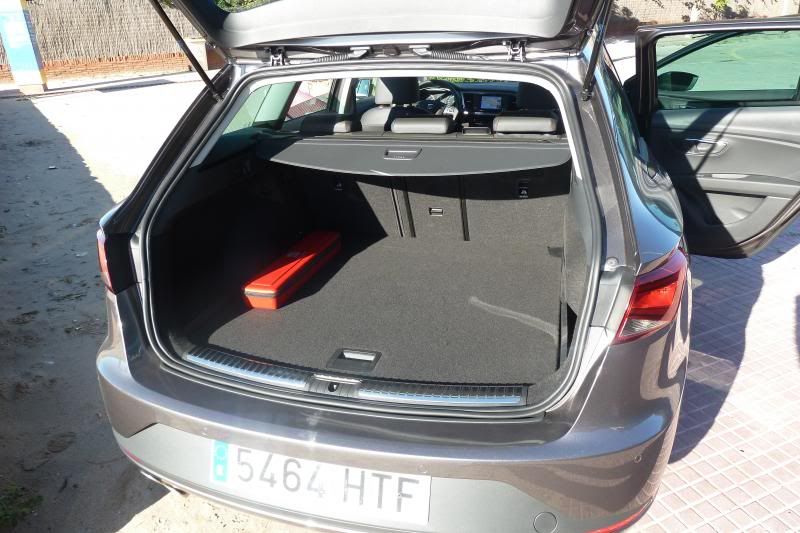 SEAT Sound System sub woofer hidden in spare wheel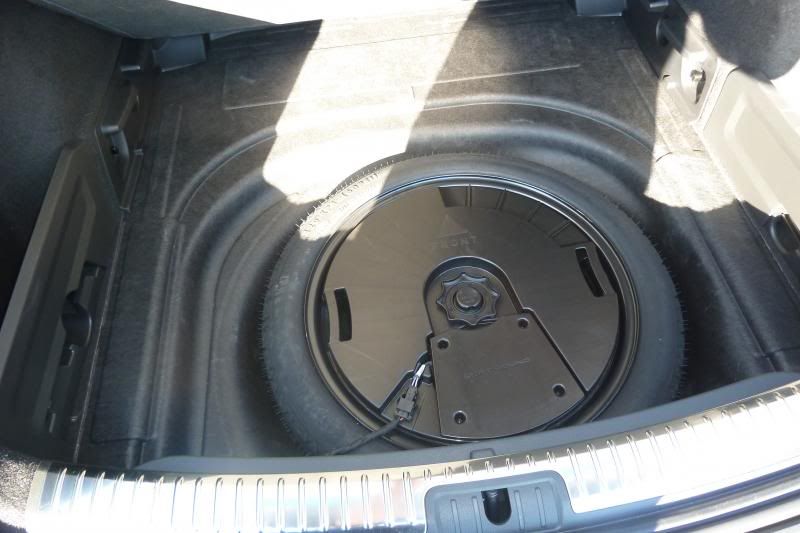 We then took off heading back towards Hotel W, this time instead of driving blind we used the built in sat nav which came in quite handy as it displays the speed limits in the top corner something I had struggled with a little bit as speed limit sign posts aren't always displayed that well I found in Barcelona. Something I had to laugh about is that the sat nav had been switched into English rather than Spanish and it really struggled to pronounce some of the place and road names especially as we got closer back to Hotel W, some of the road names were quite long and made for comical listening.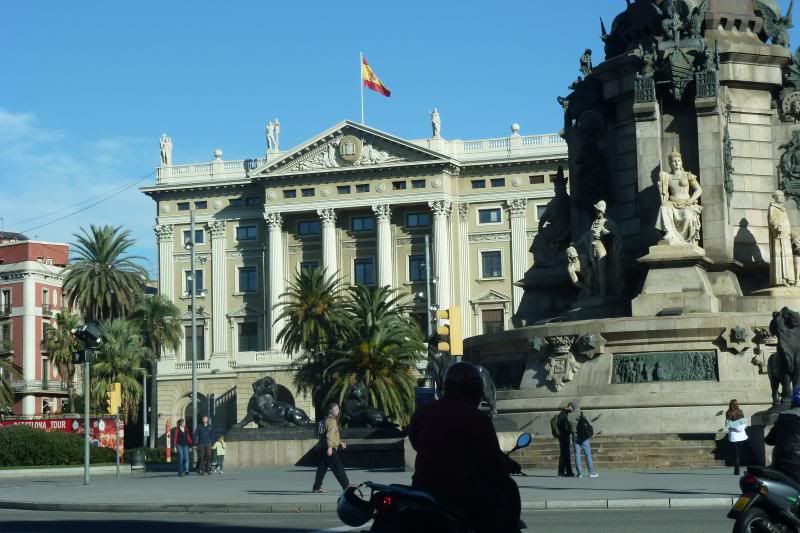 Hotel W from the beach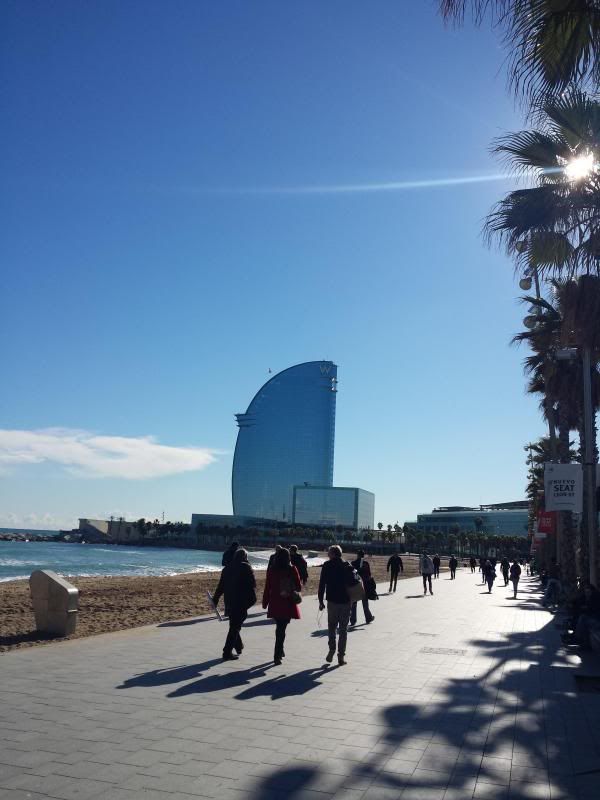 Back at Hotel W, we swapped the 1.8TSI 180ps DSG for a 2.0TDI 184ps manual, we had 45 minutes till the pre-arranged press conference so we ventured back into Barcelona centre, the first thing I noticed with the 184ps engine is something I also noticed when I drove the 5-door and SC, the 184ps engine has bags of torque available at low rpm which gives a very good torque punch. In my previous 5-door and SC reviews I have gone into a little more detail about this and compared it to the torque punch of the previous generation Pump Duse diesel engines from SEAT which I was a big fan of, I have always found the linear torque delivery of the Common Rail engines a little bit too linear and always wanted them to make them more punch, once again the 184ps delivers that punch I have been waiting for. The engine is quiet and runs well as expected. Apart from the engine and gearbox which was nice and smooth the rest of the car is exactly the same so nothing else to report from this test drive.
Back at Hotel W we took a short walk along the beach front towards the "cube".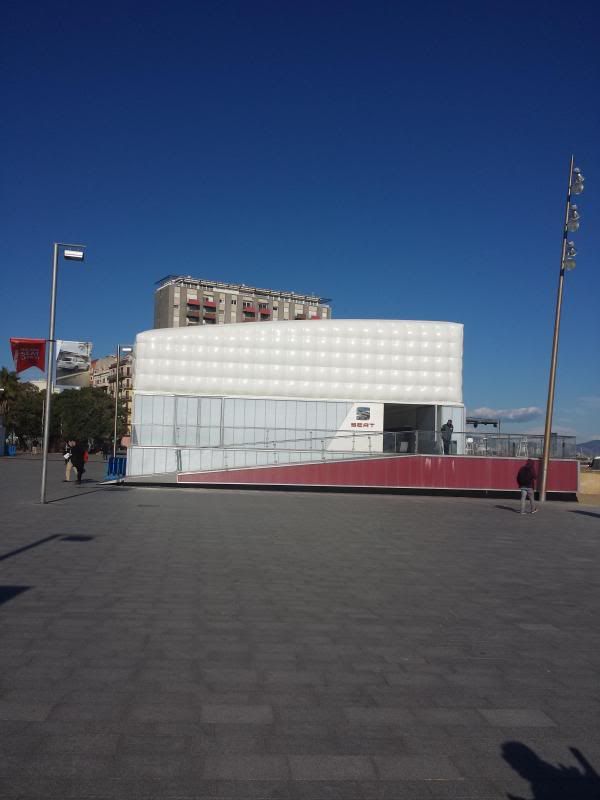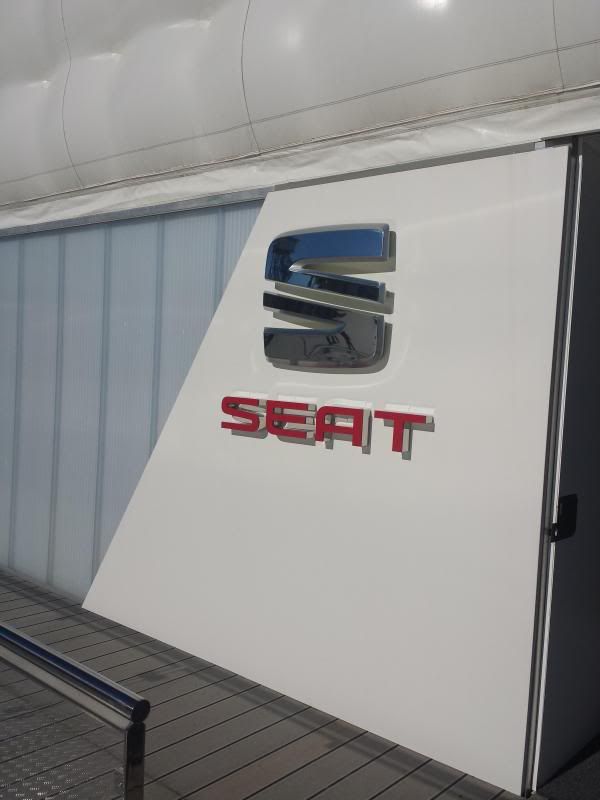 Here SEAT ES held the press conference, highlighting the details of the Leon ST and discussing the technologies that the ST has this was chaired by Antonio Valdivieso,  head of product communications who gave a very good and informative presentation aided by his colleagues. Press packs were handed out to all people attending and all questions were answered, the cube also had a selection of displays about the MK3 Leon, some pictures can be found below.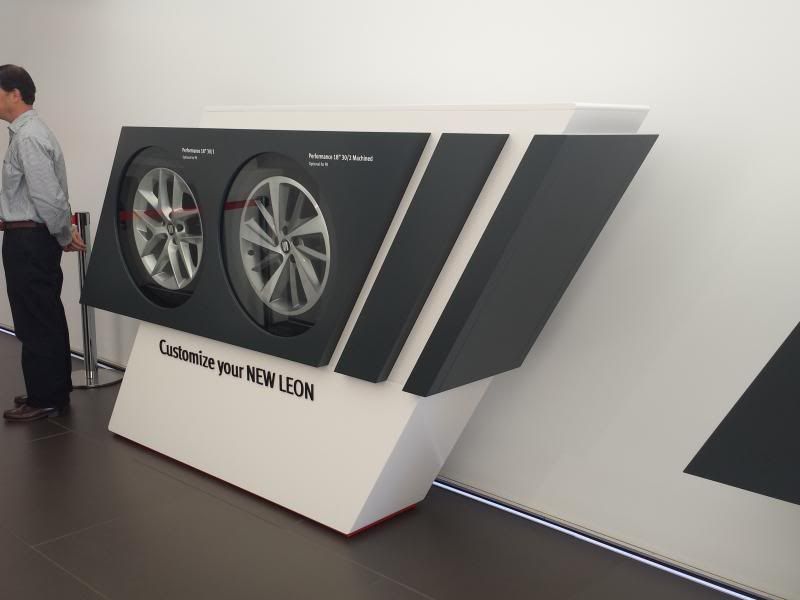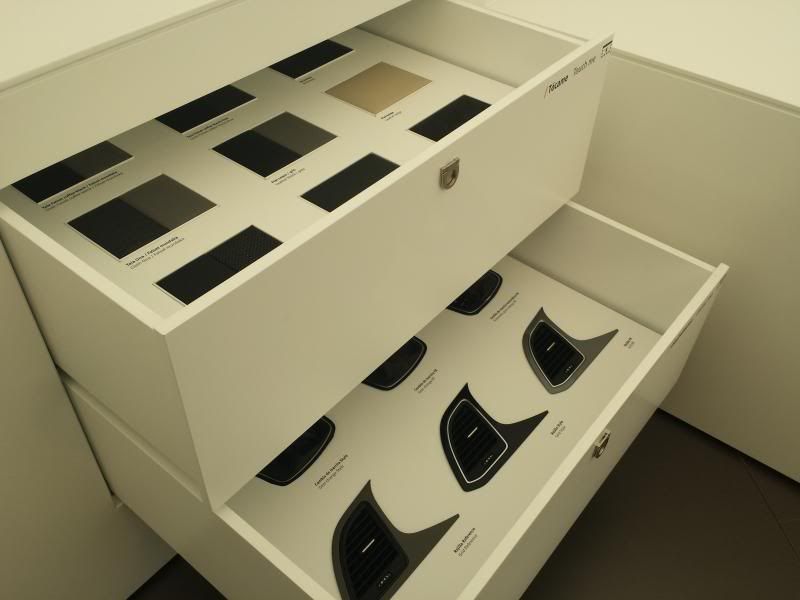 We walked back to the hotel providing me the opportunity to take some more photos of Hotel W which can be found below. Along the route there was plenty of advertising for the "Nuevo Leon ST" or new Leon ST to me and you. A lovely lunch was provided back at the hotel, I opted for the lamb on the bone which was gorgeous also supplied was some seafood side dishes which once again I was pleased with.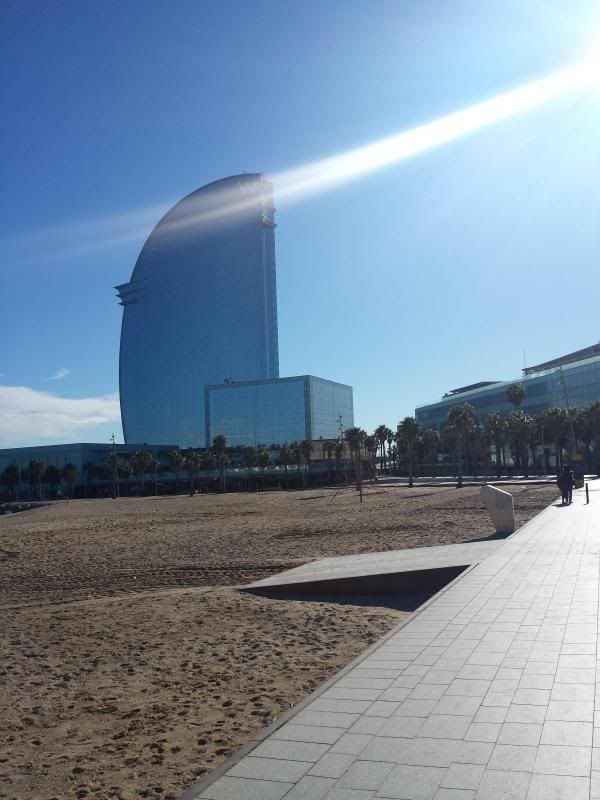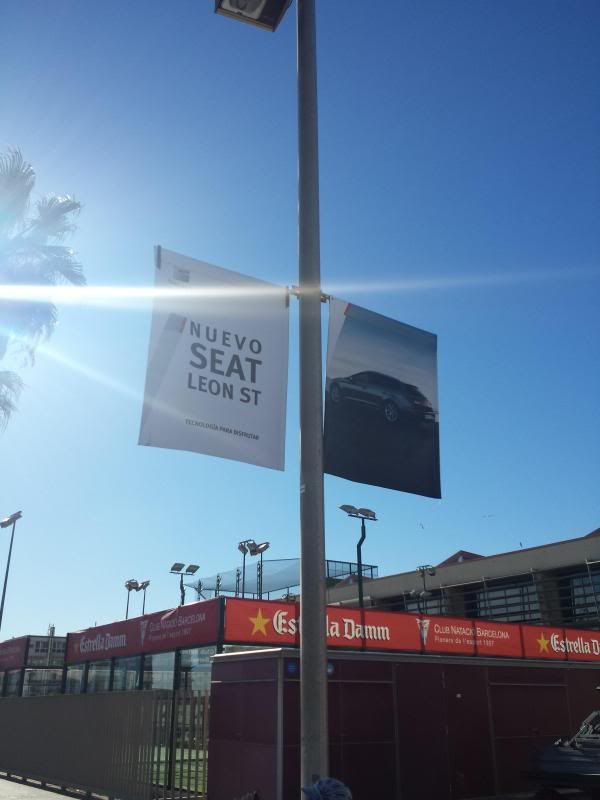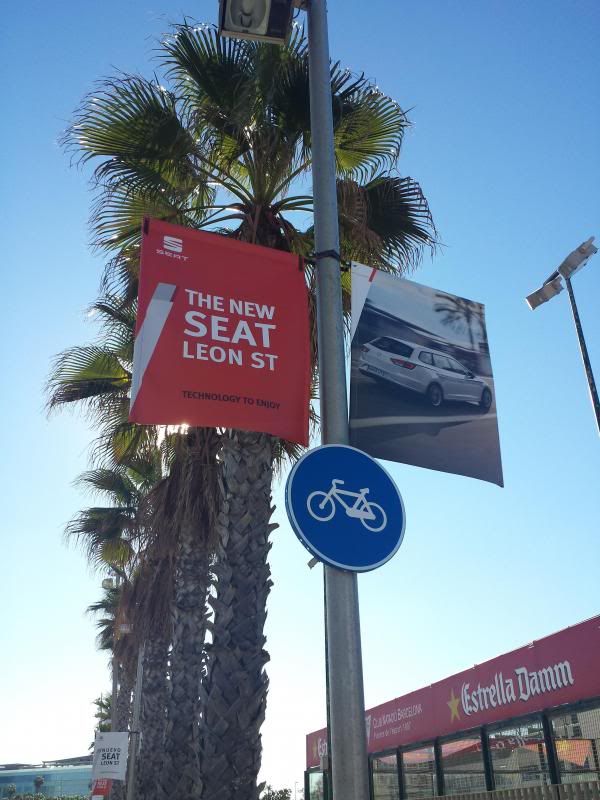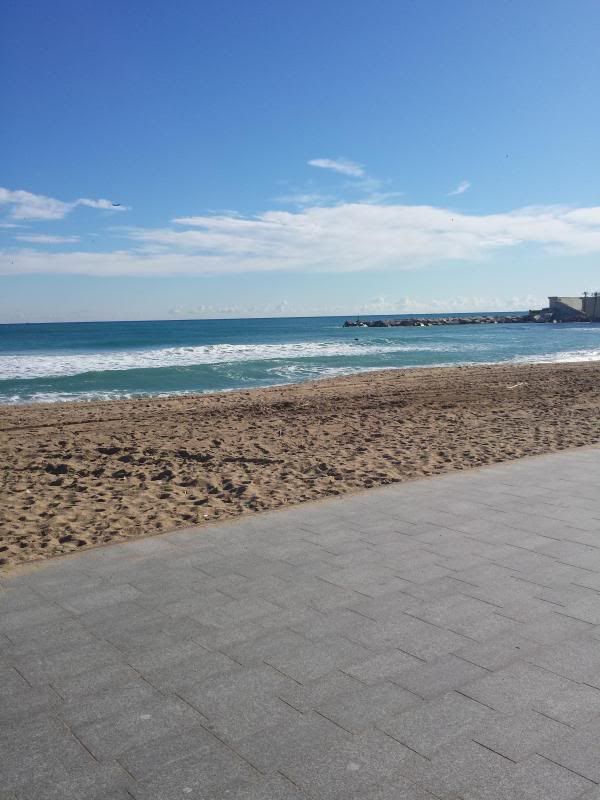 The final activity of the day was to drive ourselves back to airport, SEAT ES did offer us a transfer but most of us opted to take the task of doing it ourselves, I had driven around all day without issue so I was confident of this task. We opted for a 2.0TDI 184ps with 6 speed DSG for this task, the car felt exactly the same as the manual apart from it was effortless to drive just stick it in D and away we went, I did try out the paddle shifters and they worked excellent.
So my conclusion on the Leon ST, first of all I am not a person who has ever looked at an estate car before and thought I would like to own one, neither do I need one but now I have been to all 3 launches (5 door,SC and ST) the question is which of the 3 would I like? I ruled out an SC because I currently have a MK2 Leon which is of course a 5 door and therefore would miss the extra doors but surprisingly after seeing the ST for real I would pick the ST over the 5 door simply because I think its a cooler car, the lines seem to flow better, it has more muscular shoulders and it drives just as well as the 5-door so therefore you get best of both worlds. If I was however buying a ST I would wait for the Cupra version to arrive before purchasing.
The engine line up and spec line up offers something for everybody, Maybe you want economy and will look at the Ecomotive 1.6TDI or maybe you want power and will look at the FR 2.0TDI 184ps or the 1.8TSI 180ps. Maybe alcantara seats are what you are after or even some leather, the new SEAT Leon range offers something for everybody and is due to offer even more once the Cupra models and possibility of the ST AWD are delivered.
 Engine Lineup for UK:
1.2 TSI – 105ps S/SE
1.4 TSI – 140ps – SE/FR
1.8 TSI – 180ps – FR
1.6 TDI – 105ps – S/SE
1.6 TDI – 110ps – Ecomotive
2.0 TDI – 150ps – FR
2.0 TDI – 184PS – FR
I would like to take this opportunity to say thank you to SEAT UK, SEAT ES, Hotel W and Salamanca for the hospitality.